International Professional Certificate Programs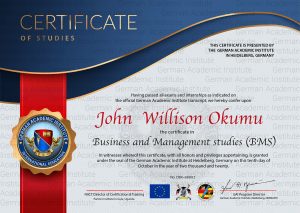 Enhance your job performance, gain recognition and increase your marketability in your career field or an area of interest in less time than it takes to earn a degree. Get certified with the German academic Institute. Our International professional certification programs will help you attain valuable knowledge, skills and training in your desired specific field.
Some certificate programs may offer you the opportunity to earn university credits. Regardless of your academic level, there's a certificate program to match your interest.
All the International Professional Certificate programs are to be completed on line or distance learning. Please check with our academic advisors (contact@german-academic-institute.eu) for precise guidance.
Enrollment, Duration and Accreditation
All applicants can enroll individually any time of the year since each course is handled individually.
The duration of each course is 12- 16 weeks. Please look at the Individual Concise Course Description here and Accreditation of short courses here
European Courses Credit Transfer System (ECTS)
Some of the training modules proposed to be used are issued from the proven series of training modules already used by F+U group at its University of cooperative Education in Germany and other EU Universities of Applied Science. These module profiles were compiled by Senior Professors and Curriculum experts from Germany and East Africa. Such modules were presented to the European Union EDULINK, ACP Science and Technology Capacity Building Units and approved as relevant and focused on improvement of local "in service curriculum" by way of complementary "EU added  Values".  The module contents have been adapted to suit the prevailing local conditions and interests.
The modules to be taught during the training courses will entitle successful participants which fulfill all the preconditions for a higher education university matriculation in an EU country to acquire a number of credit points under the European Courses Credit Transfer System (ECTS) issued by IBA F+U and other EU Universities of Applied Science These ECTS can be then redeemed in case of future higher education of participants in any EU country.
FLEXIBLE MODULE SELECTION CONCEPT (FMSC)
FLEXIBLE MODULE SELECTION CONCEPT (FMSC) The way our short programs work is that students who take these courses are not subjected to a monotony of fixed modules but a Flexible Module Selection Concept (FMSC) focused on elements which either complement their prior education or modules lined up with the practical applications on the ground where ever the applicant may be.
PRACTICAL TRAINING/INTERNSHIPS SEGMENT PROCESS
This 12 to 16 weeks short course requires that the  applicant spends a minimum of  105 hours = (15 days of 7 hours a day) in a practical engagement at a particular  Company, Industry, Organization, Office environment , School, Collage or any establishment where one  can gain additional skills related to the specifics of the course. Click on the graphc below for more….